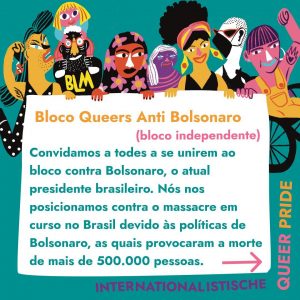 English below
Bloco Queers Anti Bolsonaro
(bloco independente)
Convidamos a todes a se unirem ao bloco contra Bolsonaro, o atual presidente brasileiro. Nós nos posicionamos contra o massacre em curso no Brasil devido às políticas de Bolsonaro, as quais provocaram a morte de mais de 500.000 pessoas.
Além do aumento dos ataques às vidas de LGBTIQ+ e aos direitos e corpos das mulheres*, Bolsonaro tem atacado as comunidades indígenas e suas terras.
Nós dizemos chega! BASTA!
FORA BOLSONARO!!!
Queers Against Bolsonaro Block
(independent block)
We invite all of you to join our block against Bolsonaro, the current Brazilian president.
We stand as queers against the ongoing massacre in Brasil due to Bolsonaro's policies which have caused the death of over 500.000 people.
On top of increased attacks on LGBTIQ+ lives and women's rights and bodies, Bolsonaro has been attacking indigenous communities and their lands.
We say no more! Basta!
Fora Bolsonaro!